PILOT SERVICE -6
Lead: Andrew Fleming, British Antarctic Survey
PILOT SERVICE NAME
Improving safety for shipping in the Polar Seas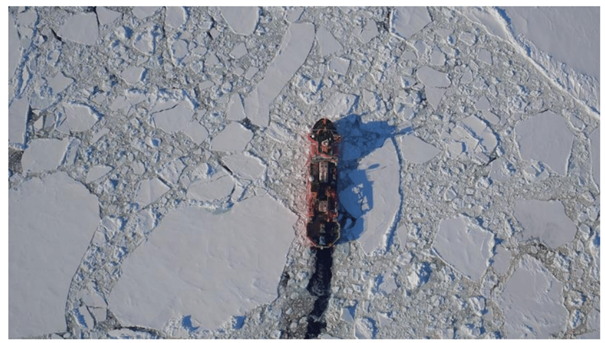 Photo by Andrew Fleming
OBJECTIVE
The Arctic shipping pilot service aims to develop an operational service to better quantify the risk to a vessel as it navigates through ice-covered waters. The pilot service will improve the POLARIS risk assessment methodology by analysing historical ship traffic coincident sea ice conditions and extending the current method to add a forecasting capability.
DESCRIPTION
Navigating through Arctic sea ice is inherently dangerous for ships. Moving through sea ice also takes more effort, resulting in higher fuel burn. To mitigate these effects, up to date relevant information about the current sea ice conditions contributes to safe and efficient sea ice navigation. But the risk to a ship in ice depends on how well it was designed to cope with such conditions and has primarily been up to the judgement of the vessel's crew. The recently introduced IMO Polar Code required a methodology to quantify this risk, by assessing ship operational capabilities and limitations in sea ice. This resulted in the Polar Operational Limit Assessment Risk Indexing System (POLARIS), which is based on an evaluation of the risks posed by ice conditions in relation to the ship's assigned ice class. The aim of this pilot service is to implement and test improvements to these new risk assessment methods. Our approach includes the following aspects.
Calculate POLARIS risk evaluations available for ships based on their AIS location, ice classification and information from ice charts, automatic ice information products and othe relevant information
Assess automatic ice information quality by comparison with independent data such as in situ ship observations, buoy data and satellite products.
Deliver the risk evaluations through a map-based graphic web interface.
Use historic ship traffic data to assess shipping traffic in the period before POLARIS to determine if POLARIS captures risk appropriately or requires an update.
Use forecasted sea ice information to produce forecasted RIO score scores for the tactical and strategic planning of future vessel movements. An experienced consortium is responsible for delivering the project aims, including partners from the European Ice Services (METNO, FMI, DMI), research vessel operators (AWI and UKRI-BAS), along with guidance from the Arctic Council Working Group, PAME, the Norwegian Coastal Administration, as well as industry representatives AKER ARCTIC and Lloyds, and maritime education establishments such as the Nautical Institute.
Organisation links if required
METNO FMI DMI AWI UKRI-BAS PAME Norwegian Coastal Administration AKER ARCTIC Lloyds Nautical Institute
News highlights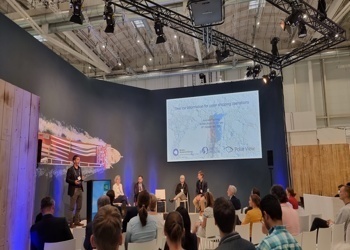 Arctic PASSION at SMM
Read Janet Pawlak and Heïdi Sevestre's summary of Arctic PASSION's participation on the leading international maritime trade fair (SMM) earlier this year.
Read More