Management structure
Leads: Michael Karcher, Alfred Wegener Institute and Luisa Cristini, Alfred Wegener Institute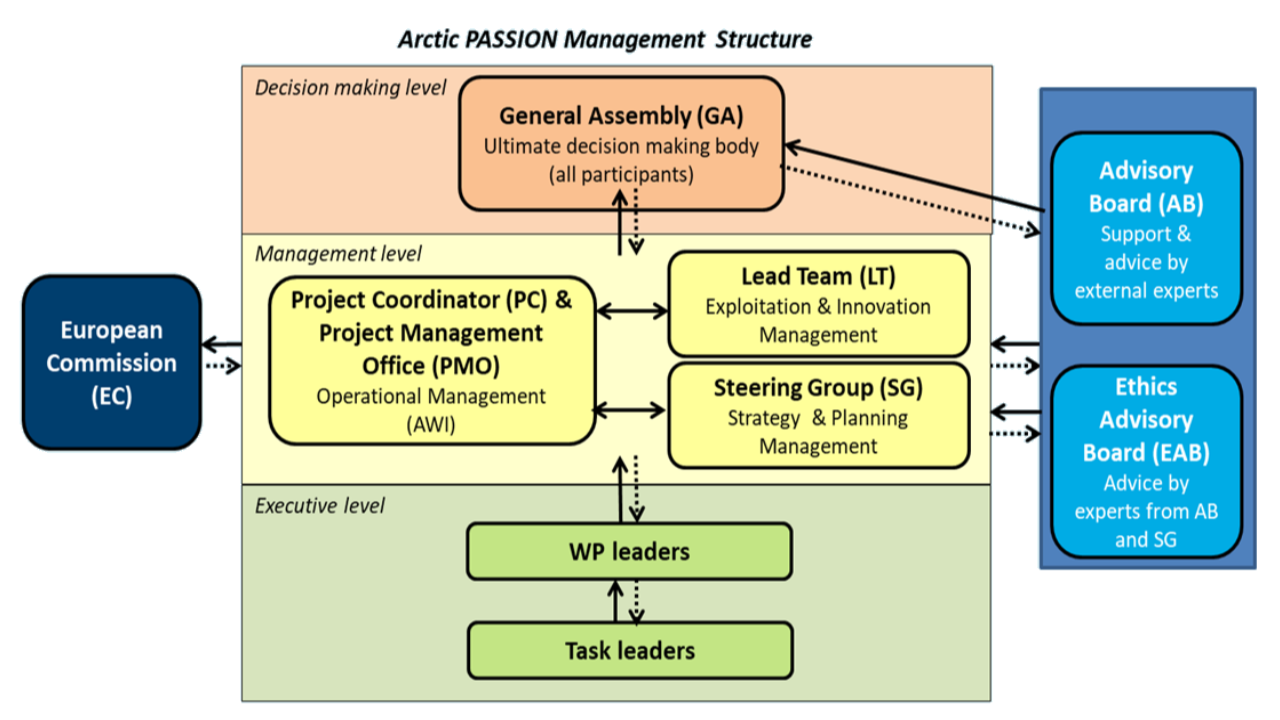 The Arctic PASSION management structure is proven effective and based on those used by successful H2020 projects coordinated by Alfred Wegener Institute (AWI). There are three levels, in an interlinked, success-oriented framework.


The decision-making level (orange) : This Will consist of the General Assembly (GA), in which all partners are represented. It will be the highest authority and central body for strategic project decisions within the project and will be responsible for the compliance with the Grant Agreement, Annexes, and Consortium Agreement.

The management level (yellow) : will be under the responsibility of the Project Coordinator (PC) and the Project Management Office (PMO) who together will oversee operational management. To enhance communication, decision-making and feedback to Partners and stakeholders, due to the complexity of the project, the PC and PMO will be supported by (i) the Lead Team (LT): who will provide Exploitation and Innovation management and; (ii) the Steering Group (SG): who will provide post-award management of strategic planning.

The executive level (green): Comprised of WP Leaders and Task Leaders, it will be responsible for oversight and implementation of WP activities and tasks and maintaining close contact with the partners involved. The three levels will be supported by the independent Advisory Board (AB) and Ethics Advisory Board (EAB).
The Coordination Team (i.e., the Project Coordinator and the Project Management Office) at AWI is in charge of the overall operational management for the project (WP10). This includes contractual and financial management, as well as scientific management. WP10 task is to ensure the project delivers the expected results on time and budget in collaboration with all the WP teams. The Coordination Team oversees and supports the work of the various teams as well as relationships with collaborating partners and the European Commission.
The Coordination Team is located at AWI in Bremerhaven (Germany) and composed of:

Michael Karcher: Project Coordinator and first point of contact for the project, in charge of the overall project coordination.
Tordis Hellmann: Project administrative and financial coordinator, in charge of the grant management.
Luisa Cristini: Project Manager, in charge of the project's operations including scientific management.
It can be reached collectively at: arctic-passion-coord@listserv.dfn.de