Arctic PASSION General Assembly 2023 took place in beautiful Baveno, Italy, 22-25 May. Almost 100 project members, Advisory Board members, Indigenous community representatives, European Commission representatives, and invited speakers met for three days to celebrate reaching the half-way point of the project, discuss progress and to plan the way forward for the second half of the project.
The Arctic PASSION consortium meeting in person for the annual General Assembly. Photo by Olivia Rempel, GRID-Arendal.
This year, invited speakers included Aslak Holmberg from the Sámi Council, Patti Bruns from the Arctic Mayors Forum, Lauren Clavelle from the Tū'desē'cho Wholistic Indigenous Leadership Development (TWILD), Corinne Wood-Donelly from an EU-funded climate action project JUSTNORTH, Kristi Benson from the Department of Culture & Heritage, Gwich'in Tribal Council and Pierre Yves Le Traon from Mercator Ocean International, who participated in the Assembly remotely.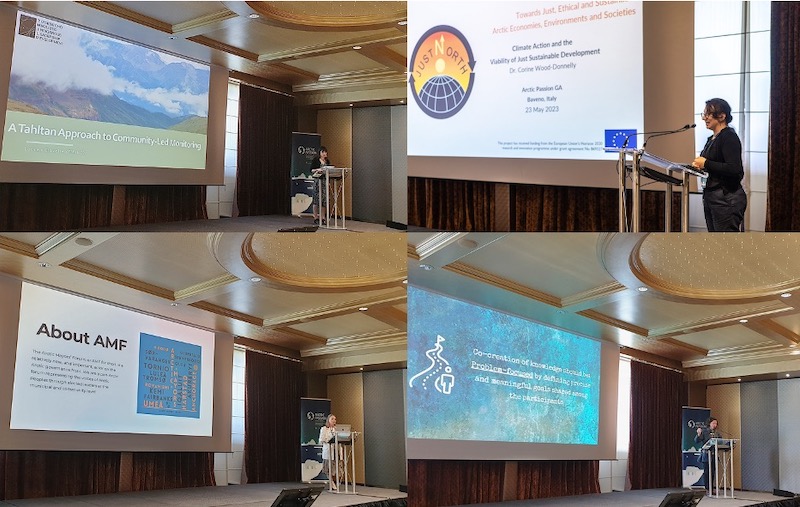 Invited speakers covered various topics highly important to the project. These topics included community-led monitoring, climate action and the viability of just sustainable development, integration of the Arctic observing systems in Arctic Communities as well as working with Indigenous knowledge: What successful co-creative research looks like presented by Lauren Clavelle (top right), Corinne Wood-Donelly (top left), Patti Bruns (bottom left) and Aslak Holmberg (bottom right), respectively. Photos by Michael Karcher, AWI, and Olivia Rempel, GRID-Arendal (top left photo).
In addition to the presentations by invited speakers and project partners, many breakout sessions and side events took place during the General Assembly. These events allowed participants to meet across the project and beyond its established working groups, discuss specific themes and receive feedback from the invited guests. One of them was the Pizza Meet & Greet for Arctic PASSION Early Career Professionals organized by the Association of Polar Early Career Scientists (APECS).
"With this meeting we wanted to connect the young project participants by spending an evening together, playing a get-to-know-you game and tasting Italian pizza together. Connecting the young professionals with each other will help them to navigate through the project and will also create better connections across the different working groups of the project," Lisa Grosfeld, one of the organisers of the event explains. "With our group of ten participants, we already had seven out of nine working groups represented and many in the round did not know each other before," she adds.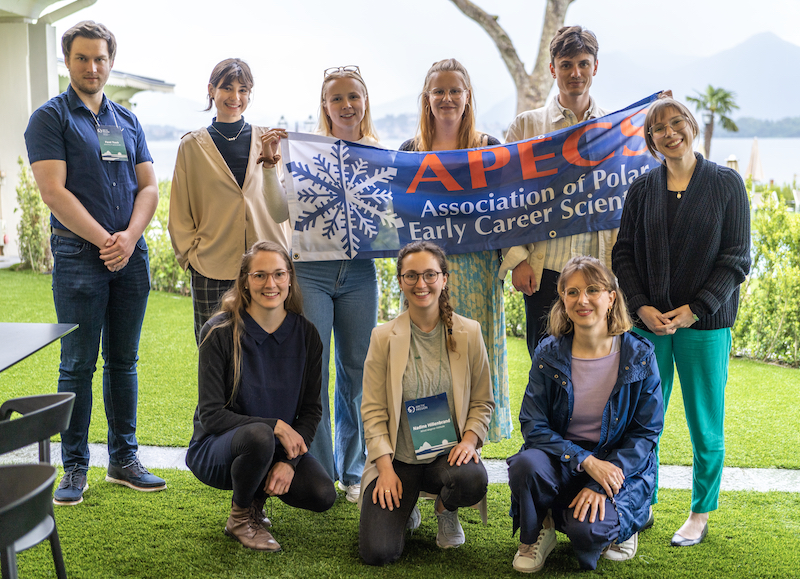 Participants of the Pizza Meet & Greet for Arctic PASSION Early Career Professionals: Lisa Grosfeld (front left), Nadine Hillenbrand, Ilaria Crotti , Pavel Tkach (back left), Lauren Clavelle, Kaisa Juhanko, Anni Kröger, Pjotr Elshout and Tahnee Prior. Photo by Olivia Rempel, GRID-Arendal.

During the General Assembly, Srdjan Dobricic from the Joint Research Centre, Lauren Clavelle from TWILD, Pavel Tkach from the Arctic Centre and Anu Fredriksson from the Arctic PASSION Advisory Board shared their reflections, advice and expectations for Arctic PASSION in video interviews published via Arctic PASSION's Instagram channel. Screen-captures from videos by Olivia Rempel, GRID-Arendal.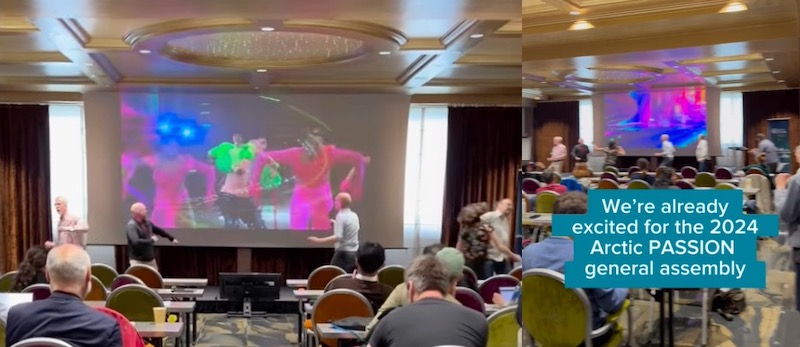 The Arctic PASSION 2023 General Assembly closed with a dance party.

Screen-captures from a video by Olivia Rempel, GRID-Arendal.




The three days in Italy included important conversations, reflections, brainstorming and planning as well as intense teamwork, meaningful encounters and joy. One of the joyful moments took place on the third day when the Arctic PASSION 2023 General Assembly ended with a Cha Cha Cha dance party. Check also updates from the project partners about the assembly on their social media channels tagged with #arcticpassionGA2023. For frequent updates and more interviews, follow us on Instagram, Facebook, Twitter and LinkedIn.